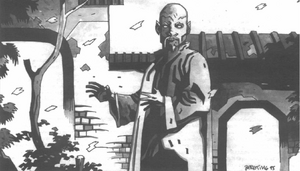 The Golden Dragon syndicate is based in San Francisco, and is both a Tong and a Triad.
As the other Chinese Tongs (and Triads) in the Bay Area it launches anti-Yakuza operations from San Francisco, Oakland, and Berkley. It is also involved in the smuggling of weapons.[1] The Triad is led by a powerful Ork shaman, Yee Chan who played a critical role in the war of resistance against the Japanese occupation. He also runs a magical group, the Golden Acorn Society. That magical society has members of all races and is based in the Chico-Oroville Greater Metropolitan Area in the Central Valley.[2][3]
Community content is available under
CC-BY-SA
unless otherwise noted.