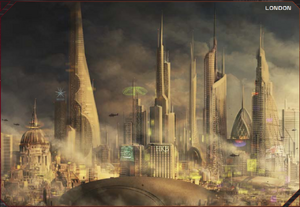 London, also nicknamed "the Smoke," is the capital of the United Kingdom of Great Britain. Its population is about 10 millions, a third in Inner London, and two thirds in Outer London.
Economy
[
]
London is the most important financial hub in Europe, although closely followed by Frankfurt and Paris in the Eurozone and Switzerland. In 2052, the average income was ¥31,900, 34% of the population was below the poverty line.
Major corporate presence include Hildebrandt-Kleinfort-Bernal, Zeta-Imperial Chemicals, Regulus Joint Industries, IWS, Aztechnology, Saeder-Krupp's subsidiary Amalgamated Technologies & Telecommunications and Novatech European headoffice.
Index
[
]
External Links
[
]