About
Shadowrun is a role-playing game set in a near-future, fictional, alternate universe in which cybernetics, magic, and fantasy creatures co-exist. Shadowrun combines cyberpunk and high fantasy to create a near future world where technology has advanced beyond our understanding, powerful mega corporations control everyday life, and magic and classical fantasy races have returned to the world.
Watch your back, shoot straight, conserve ammo, and never, ever, cut a deal with a dragon.

Shadowrun
Video games
Featured Video
Helping Out
To write a new article, just enter the title in the box below.
Gallery
Featured Article
Shadowrun: Hong Kong contains fantastic elements for a new Shadowrun setting: an underworld of triads, tongs, and gangs to navigate, wild magic to harness, and bleeding edge cybertech to equip. Plus, Hong Kong's culture is steeped in "guanxi" - a network of influence and relationships based upon a combination of social status and prestige. All of these elements add up to a great new setting for running the shadows.
Blogs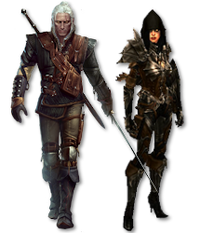 In addition to loads of new and updated content, this wiki incorporates material from 6WW/Dumpshock wiki rescued from the
Crash
, as well as material from
Wikipedia
.