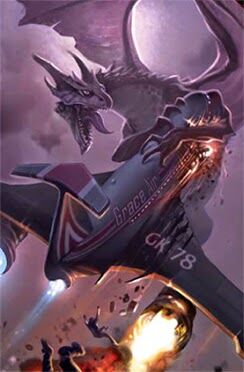 Sirrurg the Destroyer is a Western Great Dragon. He is famous for destroying EuroAir Flight 329 from London to Atlanta in 2041, presumably in retaliation for the Night of Rage, in which several hundred metahumans were killed by anti-metahuman protestors. He also helped found Amazonia, but since the destruction of EuroAir 329 he has vanished from public sight.
History
[
]
On April 28, 2034 , Sirrurg, Hualpa, and an unidentified dragon, along with an army of awaken beings and metatypes begin to assault Manaus, Brazil.
November 2, 2034: Amazonia is officially founded.
September 23, 2041: Surrurg attacks EuroAir Flight 329.
After 2041, Sirrurg is said to have continued to target seemingly random targets all around the world; leaving no survivors to report his attacks.
In January 18, 2073, the Aztlan-Amazonian War escalates, Sirrurg attacks the Colombian city of Cali and kills an estimated 10,000 people; "through Sirrurg's entropy power."
In 2074, while defending Amazonia from Aztlan forces, Aztlan is able to take Sirrurg down. Before Aztlan is able to finish off Sirrurg, he vanishes without a trace.
Relations with other Dragons
[
]
Sirrurg was mentioned in Dunkelzahn's Will:
"To Sirrurg, the Destroyer: though we have never understood one another, I respect your conviction. Because I know you value nothing else of mine, I leave you with my respect and that alone."
Comments
[
]
It is believed that Sirrurg attacked EuroAir Flight 329 and many more targets after that, to kill a group of immortal elf dragon hunters.
It is believed that Sirrurg was saved by the Dragon Council before the Aztlan forces could kill him, and then was imprisoned at an unknown location for an indeterminate amount of time.
Index
[
]
External links
[
]