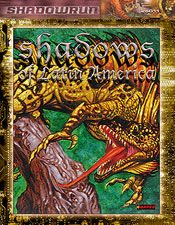 Shadows of Latin America is a sourcebook—originally planned for Shadowrun Third Edition—that describes the countries and conditions in Central and South America circa 2064. The project was originally proposed for publication in 2005, by Shadowrun Line Developer, Rob Boyle as FanPro SKU 25011, and later developed by Jong-Won Kim.
Can you stand the heat?[1]
"You'll be sweating bullets if get caught in the crossfire between Amazonia and Aztlan-and you'll need that extra ammo. Latin America is no vacation spot, gringo. Even if you avoid those juggernauts, you'll still be running against Caribbean pirates, drug-dealing Ghost Cartels, Old World dictatorships and communist revolutionaries-and whatever you do, stay out of the jungle."
Shadows of Latin America explores the many countries and territories of Central and South America in the world of Shadowrun. Each profile includes details on location hot spots, government and corporate rulers, the criminal underground and religious factions. It provides extensive updates on the Awakened nations of Azlan and Amazonia, as well as a selection of paranormal flora and fauna to be found in the deep jungles.
In 2010, after it was officially announced by Shadowrun license holder Catalyst Game Labs, that the book would not ever see an official printing, most of the authors publically released their drafts on the internet for use by fans of the game. The drafts linked below are therefore apocryphal; not official canon, and yet not simply a fan-book.[2]
Latin America 2064
None of the released drafts may be used for any commercial purpose without permission from the authors.[3]
All of the above has been formatted and compiled into a single PDF by Tobias Grunow:
Concept art
Some of the art commissioned for the project was by Kenny Barral, a now deceased Spanish-Uruguayan artist, actor, and gamer. Samples were released by project-developer Jong-Won Kim in remembrance of the artist.[4]
Latin America 2072
Four countries in Latin America were updated for the Sixth World Almanac by Robert Derie (aka Ancient History). He used concepts from Shadows of Latin America as inspiration for his work. When Derie withdrew his material from the Sixth World Almanac over contract disputes, he posted it on his website, The Ancient Files.
None of this material may be used for any commercial purpose without permission from the authors.[5]
References