Space is still a very dangerous place even by Sixth World standards. Despite this the megacorporation are pursuing limited manned exploration with a number of facilities in Earth or Lunar orbit. There is also at least one facility in Solar orbit, and a small base on Mars.
AresSpace has 5 to 7 manned facilities in space.[1] Fuchi Orbital is owned by Novatech. [2] Mitsuhama builds robot for space.[3] Renraku weakest area is aerospace, despite owning Ganbare Aerospace. [4] Saeder-Krupp is Ares' largest aerospace competitor. [5]
In the late 2040s, James Yavin (a former NASA astronaut) left AresSpace to start Astrotech Industries which has since become a serious competitor to AresSpace. [6]
Spaceplanes and shuttles still require heavy booster rockets, and the cost of a space launch is around 1,000 ¥ per kilo of payload.[7]
Mount Kilimanjaro Mass Driver (Corporate Court) proposed before 2062,[7] operational before 2068, and serviced from Nairobi, Kenya, "the Gateway to Space".[13] The laser-assisted magnetic mass driver system is able to fire small light vehicles into orbit, at a payload cost of around 20 ¥ per kilo.[7] Due to the acceleration involved, the mass driver cannot launch living subjects, or especially delicate cargo.
Space Elevator (Corporate Court) Under construction in November 2072. Scheduled to begin operation in 2074, with an occupied space-side habitat by 2076. It was suggested that the Mount Kilimanjaro mass driver might be decommissioned once the space elevator is completed.[14] While regular cargo could traverse a space elevator in a couple days, living and delicate cargo would take around a week to make the trip up or down.
There are around fifty manned stations in LEO (150 – 2,000 km). The most notable are:
The altitude required to remain stationary over a point on Earth (37,000 km)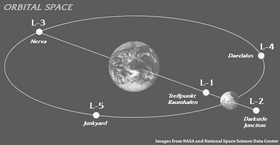 The L1 point is around 85% of the distance to the Moon (~326,000 km from Earth). The L2 point is around 16% (~61,500 km) further out than the Moon. The L3, L4 & L5 points are in the Moons orbital path; L3 is opposite the Moon, L4 is 60° ahead, and L5 is 60° behind.
Orbits around 384,000 km from Earth.
Terrestrial (Earth-Sun) LaGrange points
Asteroid Belt

Saeder-Krupp is planning a mining mission.[31]
Community content is available under
CC-BY-SA
unless otherwise noted.