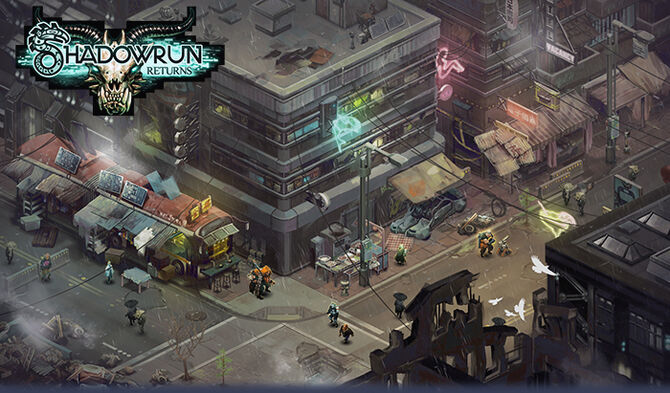 After a less than impressive outing on the Xbox 360 and PC, Shadowrun Returns has arrived on PC courtesy of a successful Kickstarter campaign and rabid fans eager to see a true follow up to the beloved SNES and Genesis games.The first reviews are in, and we've gathered them here to help you decide if the game is worth $19.99 (Spoiler alert: it looks like it is).
Check out the critical response below and let us know your thoughts in the comments section!
Liked It
9/10
"This is a game that unabashedly understands how to deliver the full-bodied, total package experience. To cherry the Sundae, though, the game editor means that Shadowrun Returns goes from being a game that is a handful of hours long, to one that truly could never end."
87/100
"Stepping back and looking at what the team has completed in the time since their Kickstarter closed on April 29th of last year, this game is an amazing example of what true fans of the source material can do when not constrained by traditional distribution methods. The fact that this game costs less than a night at the movies and delivers a storyline you'll want to play more than once, as well as the promise of infinite expansion, it's very easy to recommend."
8.5/10
"Even if you never played the tabletop game or the original Shadowrun console games, Harebrained Schemes has crafted a potent argument for joining in on the fun. Here's hoping this reawakening is just the beginning of a new lease on life for the Sixth World."
8/10
"For those who just want to relive the isometric action of the SNES and Megadrive days, Shadowrun Returns easily delivers. It's not the deepest or most flexible game of its type, but there's a lot to be said for simple ideas realised intuitively. Add in some excellent writing and, judged purely as a standalone game, it's an unambiguous success."
8/10
"All this together makes the job of recommending it an unfortunately awkward one. On the one hand what's already here is enjoyable and compelling, for the comparatively short amount of time it'll take you to play through it, but the promise of more makes me feel like Shadowrun Returns is only going to grow in value as time goes on. If the players really latch onto the capabilities of the editor, it's going to be an incredible rich offering, and one that could theoretically never stop giving."
Thought It Was OK
7.3/10
"I'm very pleased to see a good new RPG in this classic isometric style, and its The Dead Man's Switch story has some well-told twists while it lasts, and the light tactical combat has enough depth to make it a worthwhile adventure. But the bite-sized scope and limited choices available make me more interested to see what Shadowrun Returns will be a year from now, after the community has used the included mod tools to build on it, than in what it is today."
7/10
"Despite the strange omissions and Shadowrun Returns' habitual blinking in the face of bigger gameplay ambitions, it's still an engaging return to a world and fiction that's sat dormant for far too long. Shadowrun is still a singular take on a pair of genres that have been drowned by cliché elsewhere, and it's exciting to consider where the game can go from here."
Hated It
Shadowrun Returns has received no negative reviews as of yet.
Wikia Reviews
Will you be purchasing Shadowrun Returns?
Community content is available under
CC-BY-SA
unless otherwise noted.