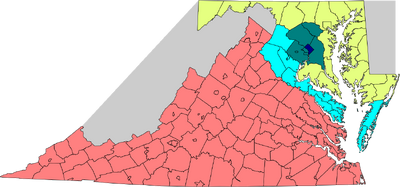 Precious little official information is available on the current status of the Old Dominion. Although some maps erroneously show Virginia as a CAS state in its entirety, a large chunk of the FDC suburbs split off as the new state of North Virginia and remained with the United Canadian and American States. These include Arlington, Fairfax, Loudoun, and Prince William Counties.
Speculation
[
]
Without the Northern Virginia economic engine, it can be expected that Virginia's economy has slowed down, matching with the sleepy image of the Confederation of American States. The bulk of Virginia's current economy is military installations, agricultural, manufacturing, and transportation. Virginia's economic unimportance was no doubt a major factor in Richmond's loss of the Confederate capital to Atlanta.
Virginia is a border state with the UCAS, and it is likely that I-81, I-95, and Rt. 29 are all significant smuggling routes. Runners will most likely be interested in the Hampton Roads area, which includes Norfolk and Virginia Beach. This is the most populous and economically prosperous area remaining to Virginia. It is the site of several important military bases, including the Norfolk Naval Base. Norfolk is most likely the beating heart of the CAS Navy. It is also a major tourist destination for its beaches and historic towns. People for the Ethical Treatment of Animals is headquartered here, as are several major corporations. The Hampton Roads area is also a major port, the third busiest in the former United States after New Orleans and Houston, both of which are also CAS cities. The top export is coal mined from the Blue Ridge Mountains. The NASA Langley Research Center is located here, next to the Langley Air Force Base. Runners willing to brave CAS security will no doubt find all sorts of wizzer gear there.
The rest of Virginia should be a good place to lay low and live slow. Plenty of privacy, as drug manufacturers and smugglers have found. Also a great deal of pure natural beauty out there. And plenty of poverty and desperation too. Watch yourself as always, chummers.
References
[
]
Index
[
]