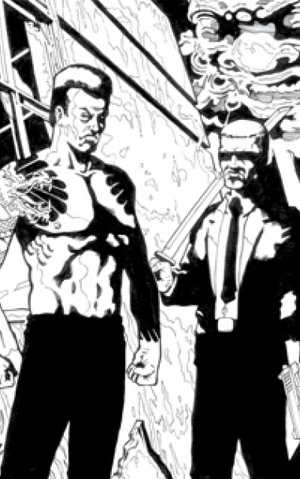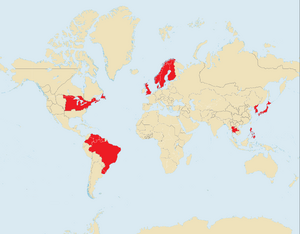 The Watada-rengou (渡田連合) is an umbrella yakuza syndicate headquartered out of Chiba, JIS.
Factions: 14
Overview
[
]
The rengo was formed by an alliance of the Shotozumi-kai, the Nishidon-kai, the Karatsa-kai, and the Shigeda-kai, with a majority of the manpower and resources coming from the Yamaguchi-gumi boryokudan. Around 2021, most of the Watada-rengou boryokudan forced out or absorbed the smaller, non-allied Yakuza gangs. The Watada-rengou is believed to be heavily tied to the Great Eastern Dragon Ryumyo, in an alliance formed around 2027 -- which led to the Watada becoming the most powerful yakuza clan in Japan.
The Watada-rengo is described as part of the "Old School" or "Traditionalist" part of the Yakuza. It is the largest and most powerful of the Yakuza groups with a worldwide reach.[1] The Watada purged the yakuza of Korean members in 2043, leading to the creation of the Seoulpa Rings. The oyabun of the Watada was Akira Watada until his death in 2070, leading to a quarrel of succession. Akira's nephew Hitori Hanzo was kumicho, and then oyabun briefly before being assassinated in 2070, but managed (as war boss) to crush the Shotozumi Uprising in Japan. Maasaki Watada was named as Hanzo's replacement.
They are strong backers of the imperialist faction in Japan, opposing the reformers led by Emperor Yasuhito. Supporting the imperialist agenda of regulation of the Awakened, technomancers, and AI, racism toward metahumans, a powerful military, and control of the Pacific Rim.[2]
Criminal Network
[
]
Nation-states with syndicate members of the Watada-rengo;[3]
Member Syndicates
[
]
Individual boryokudan in the Watada-rengou;[3]
References
[
]
Index
[
]